The company town of Crespi d'Adda is an outstanding legacy of the industrial revolution, which affected northern Italy at the end of the nineteenth century.
Within a few years, the textile sector became a driver of growth for the local economy, and large cotton factories sprang up alongside the main rivers. The owners build proper company towns to host workers in only a few cases, as well as in the case of the ambitious project realised by Cristoforo Benigno Crespi in Crespi d'Adda. In line with British models such as Saltaire and the ideals of utopian socialism, the company town was provided with a certain number of services (a church, a school, public lavatories and wash-houses, a clinic, a consumer cooperative) and social and recreational facilities. In addition, a hydroelectric power station supplied the whole village with free electricity.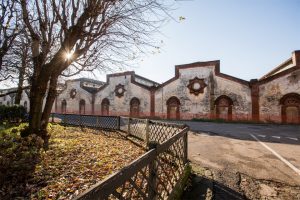 The different types of housing in Crespi d'Adda emphasise a precise hierarchy: there are about 70 detached and semi-detached houses for common workers and their families, bourgeois detached houses for managers and office workers, and simpleaccommodations for unmarried women and unskilled workers, as well as special residences for the priest, the doctor, the teacher and an impressive owner's manor. The same hierarchy may be observed in the graveyard, which is dominated by the monumental mausoleum of the Crespi family. In the 1930s, a phase of economic decline forced Silvio Benigno Crespi, son of the founder and the main sponsor of the project, to sell off the whole settlement. This was followed by several changes in ownership until 1937, when another industrialist took over the management of the factory and the company town. For 20 years, he guaranteed the provision of public services and the maintenance of workers' houses through minor ordinary works. As a result, throughout this period the buildings remained nearly unaltered, except for a major project carried out between 1939 and 1943 including the addition of technical facilities such as toilets and storage space and the removal of the brick cornices (traces of which are still visible) from the workers' houses. Also, the straw-yellow fronts were repainted in green and red. In 1972, the property was split up and the houses were sold to the inhabitants, while the factory entered a long process of decline which ended with the final cessation of production in 2003.